Golf Shop
---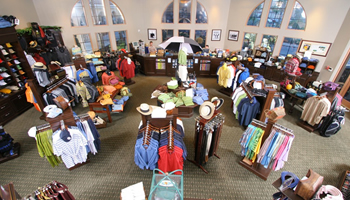 Since opening, our pro-golf shop has been named three times as a Top 100 Golf Shops award-winner by Golf World Business magazine.
Consider for a moment all the pro shops doing business out of all the daily fee, semi-private, private, and full-service luxury hotels courses in America. Tens of thousands of golf shops – some small and simple, others lavish and grandiose. Of all of these shops, only a handful are named by Golf World Magazine, the leading publication dedicated to reviewing pro shops, as one of the best. Out of this handful is our shop. In making their determination to name ours one of the top Golf Shops in the country, Golf World Magazine did more than look at the merchandise and prices. They also considered factors such as attentiveness, quality, and knowledgeable staff into their evaluations.
The Golf Shop at Rosen Shingle Creek® in Orlando is as much – or as little – a shop as you want or need it to be. Looking for a dozen balls, some tees, or maybe a glove? No problem. You'll find a variety of brand names and prices. Looking for the most stylish and current golf fashions and accessories? Maybe you'd like to pick up a few souvenirs to bring back to friends and family.
Maybe you're in the market for the latest or most advanced club technologies. We carry the best from the leaders in the business such as Callaway, Titleist, Taylor-Made, and Cobra, to a variety of interesting guerilla brands. No stone has been left unturned to make sure that anything you might possibly be looking for, you'll find inside the Golf Shop at Shingle Creek.
Why wait? Click here to book your tee time or call us at (866) 996-9933 for more information.
*There is a cancellation policy of 24 hours in advance for 8 players or less, and 48 hour for more than 8 players.
Have a GOLF EXPERIENCE – not just a golf game.