The Golf Club
---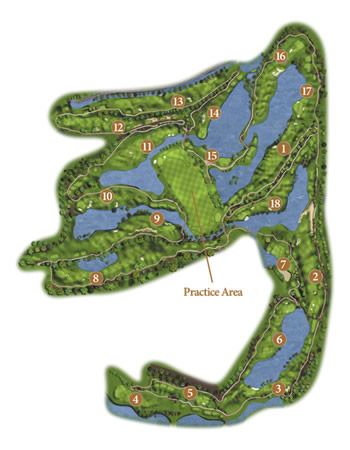 For those who've played the championship course at Shingle Creek Golf Club in Orlando, Florida, your next visit will reveal a totally new course conceived and executed by the esteemed Arnold Palmer Design Company. A new world-class golf club and course awaits with three new holes, a group of redesigned holes, and the overall balance of the course recalibrated to accommodate new design features including more forgiveness and recovery options along extra-long par-4s and par-5s. The new Shingle Creek Golf Club is definitely strokes and chips above a typical "hotel golf" course.
Senior Golf Course Architect Thad Layton says the mission was to add strategy and variety to the golfer's experience. His design features "harken back to the golden age of golf course design." The new golf course features more visible and strategically placed bunkers, like the one on the landing area of the second hole (par 5, 561 yard) that forces players to navigate creatively yet demands precision. Regardless, extra fairway width provides all skill-level players plenty of alternative options. Players will notice major differences in the short game as well, especially on a new par-3 hole—the shortest at 191 yards but definitely not the easiest. It runs adjacent to wetland with its pitch angled toward those natural hazards along its entire left side. The new range in the course's variety swings out at the eighth hole where players see the course expand drastically to a par 5, 610-yard stretch from the back tee.
New complexes and surrounds detail more closely-mown run-offs and chipping areas. Additionally, the greens themselves highlight a variety of slopes, nobs, and swales complimented by varying sizes from 3,500 to over 9,500-square-feet. The refreshed Shingle Creek golf course should prove more fun for the average player yet more difficult for the advanced player.
Shingle Creek Golf Club is also home to the Shingle Creek Golf Academy, one of the best golf instruction facilities in the nation. New to the academy is the new short-game practice area that doubled in size from the original practice area, new state-of-the-art swing analysis and game improvement technology in the indoor hitting bays.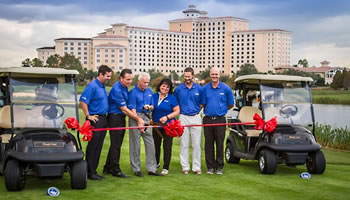 Our state-of-the-art practice facility provides Orlando golfers with everything they need to work on their game. Before playing a round we encourage players to fine tune their swing at the 70,000-square-feet driving range and to prepare for the tough greens on the new 15,000-square-foot putting greens and brand new bunker and chipping areas. For information about our world-renowned golf course, instruction facility, or how to book a dining event in our new 2,000-square-foot pavilion, perfect for award luncheons and celebrations, on our new call us at 866-996-9933.
At Shingle Creek Golf Club, we commit to you:
Award-winning customer service
Tournament course conditions on a daily basis
Manicured tropical landscaping
Great prices and services
State-of-the-art technology and GPS systems on golf carts
5 sets of tee boxes for all playing levels
A 1,501-guestroom luxurious hotel for guests
Food and beverage options that will exceed your expectations
Quiet and laid-back atmosphere with upscale amenities
Free valet parking
Ability to walk from hotel to golf course
This Orlando golf course receives its name from Shingle Creek, the northernmost headwaters of the famous Everglades that provides the natural backdrop of dense oaks and fauna. Shingle Creek's rich history spans back to early Central Florida settlers and cattle barons who were attracted to the area's local wildlife, abundant fishing and cypress trees, and the creek which provided mobility. During this period of the creek's history, it was primarily used for logging cypress trees. The trees were transported down the waterway to a nearby mill where they were processed into shingles, hence the name Shingle Creek. A beautiful rich connection to history with a commitment to excellence!
Why wait? Click here to book your tee time or call us at (866) 996-9933 for more information.
* There is a cancellation policy of 24 hours in advance for 8 players or less, and 48 hour for more than 8 players.
Have a GOLF EXPERIENCE – not just a golf game.