Course Designer
---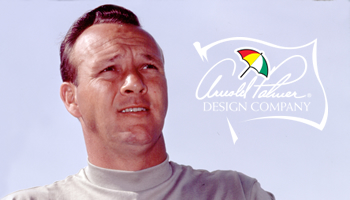 Shingle Creek Golf Club is proud to announce a completely renewed golf course conceptualized and redesigned by the esteemed Arnold Palmer Design Company. Senior Golf Course Architect Thad Layton, the key architect responsible for this massive undertaking, said, "We set out to do something resolutely different at Shingle Creek. Orlando is a golf town and our backyard. As such, we sought to build a golf course that would inspire and challenge every type of golfer. Through a hands-on approach and countless hours on site, we handcrafted a golf course with design features reminiscent of some of the finest classic golf courses in the world."
The redesigned golf course features more visible and strategically placed bunkers that forces players to think creatively about navigation. Players will notice major differences in the short game as well with new complexes and surrounds that detail more closely mown run-offs and chipping areas. Additionally, the greens themselves highlight a variety of slopes, nobs, and swales complimented by varying sizes from 3,500 to over 9,500 square feet.
Director of Golf David Scott echoes Layton's excitement about the new golf course. "With everything we've created with the new greens and strategic bunkers to the mix of drivable par-4s and lengthy par-4s and 5s, there are just so many more decisions to make. Whether you're an average golfer to the professional, it give them more options and strategy to think about."
Q&A with Thad Layton, Arnold Palmer Designer for Shingle Creek Golf Course
Q: What is Arnold Palmer Golf Course Design's overall focus or design strategy as it relates to the new-look Shingle Creek?
A: Through years of banal marketing, golfers now cringe at the term "resort golf" as it has become synonymous for a predictably ordinary golf course. Play one and you've played them all. We set out to do something resolutely different at Shingle Creek. Orlando is a golf town and our back yard. As such, we sought to build a golf course that would inspire and challenge every type of golfer. Through a hands on approach and countless hours on site, we handcrafted a golf course with design features reminiscent of some of the finest classic golf courses in the world.
Q: What are some of the more interesting construction, design or environmental changes in the works?
A: Bold greens with character: A variety of green shapes and sizes with a relatively large amount of contour will distinguish this course
There is ALWAYS more than one way to get the ball close when off the green. The different slopes in and around the greens when combined with fairway mow-outs around the greens will promote creative recovery options.
Width that matters: width alone matters not unless there is a decided advantage for using it to best tack your way to the hole. Bunkers on centerlines, risk reward carries, green orientations, and pin positions will in most cases dictate the correct side of the fairway to use.
Bunkering: The bunkers have been reduced by more than 50%, concentrating the remainder of the bunkering where it dictates strategy.
Q: For those who have played Shingle Creek before, what are some of the more entertaining changes to expect from an overall experience?
A: See previous answers.
Q: What is your favorite part of the golf course and why?
A: It's hard to narrow it down to any one golf hole as there are so many exhilarating shots to hit around the new course. We happen to think that is the hallmark of a good course.
With that said, here is a snapshot of some of the fun and exciting shots you'll face around the new course:
#4: Despite measuring 367 yards and having no greenside bunkers, the second shot to the perched green is so difficult to hit with a wedge.
#14: The drivable par 4 14th is an adrenaline inducing tee shot as the prospects of driving the green is so tempting but yet so risky.
#16: The simple and elegant strategy of the small mound fronting the green requires your full attention to play it well.
Why wait? Click here to book your tee time or call us at (866) 996-9933 for more information.
*There is a cancellation policy of 24 hours in advance for 8 players or less, and 48 hour for more than 8 players.
Have a GOLF EXPERIENCE – not just a golf game.