Dining
---
Food and Beverage Options without Par to Enhance Your Golf Experience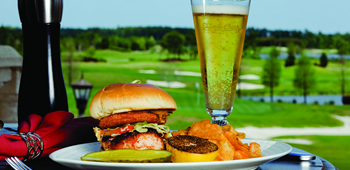 Daily on-course menus and lite bite food options are served with style in our Clubhouse Grille and ParTake Cafe snack shops. Host your next golf event food and beverage break and meal on the 1,900-square-foot pavilion, located conveniently next to Par Take and overlooking the beautiful championship Shingle Creek Golf Course.
Featured items include tasty deli sandwiches, wraps, burgers, hot dogs, chips, candy, and ice cream. Beverages, both adult and soft drinks, are available.
Whether you are hungry for birdies and eagles, or you crave your fowl crispy and on a bun, our team of professionals can serve it up with Rosen class.
Tournament menu options include breakfast, lunch, and dinner selections. You (and your group) may have a difficult time choosing between the incredible menus that include the following:
Breakfast
If you don't have time to eat breakfast before tee time, enjoy breakfast from our Clubhouse Grille and ParTake Cafe snack shops featuring breakfast sandwiches and beverages, continental breakfast, and full breakfast options. Fuel up for your day and prepare yourself for the game of your life.
Lunch
Eighteen holes can certainly work up an appetite. If you want to take a break after your game or satiate your appetite while you play, enjoy one of our box lunches or buffet lunches, including BBQ, Italian, deli, or all-American options. No matter what you choose, Rosen Hotels & Resort®s will provide you a quality, delicious meal to help you get your hole-in-one.
Dinner
After your game, enjoy dinner and a couple of drinks with your friends to relax and replenish. Our buffet dinner options include seafood, Cajun, Italian, and steak options. If you're looking to host a larger affair, reception nd other customized menus are available upon request. When you book your tee time, make your dinner reservation as well, and enjoy the high quality served by Rosen Hotels & Resort®s.
Reception and other customized menus are available upon request.
Please note that in order to maintain our high standards of quality for both foods and service, all food and beverages must be purchased and served by the Rosen Hotels & Resort®s. Charity events may be allowed an exception (to be determined on an individual basis).
Why wait? Click here to book your tee time or call us at (866) 996-9933 for more information.
*There is a cancellation policy of 24 hours in advance for 8 players or less, and 48 hour for more than 8 players.
Have a GOLF EXPERIENCE – not just a golf game.