Club & Shoe Rental
---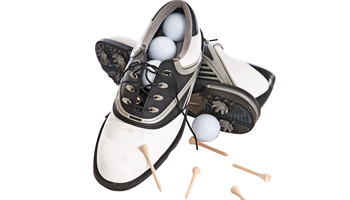 Shingle Creek Golf Club located at the AAA Four Diamond Rosen Shingle Creek® hotel is dedicated to ensuring every golf enthusiast can enjoy the Arnold Palmer redesigned 18-hole golf course bordered by the natural backdrop of dense oaks and pines along historic Shingle Creek.
Avoid the Rough. Rent Top-Quality Clubs and Shoes
Rental Clubs:
Shingle Creek's extensive award-winning pro shop offers full sets of the latest right and left handed men's TaylorMade woods and hybrids with irons. Right and left handed ladies sets are also available. With over 80 rental sets in our inventory there no need to call to Pro Shop to reserve clubs in advance.
Per set rental cost is $60, plus tax (rental includes two sleeve of golf balls).
Shoe Rentals:
FootJoy golf shoes are available for rent in sizes 7 to 14 for men and 4 to 10 ½ for women at $15, plus tax, per pair for hotel guests and $20, plus tax, per pair for non-hotel guests.
Shipping Your Golf Clubs To Our Facility
If you prefer to send your clubs directly to our facility, please ship to:
Shingle Creek Golf Club
9939 Universal Boulevard
Orlando, FL 32819
When you are ready to send your clubs back home just have your return label ready and our staff will take care of the rest. You don't even have to schedule a pick up with your carrier!
Why wait? Click here to book your tee time or call us at (866) 996-9933 for more information.
*There is a cancellation policy of 24 hours in advance for 8 players or less, and 48 hour for more than 8 players.
Have a GOLF EXPERIENCE – not just a golf game.